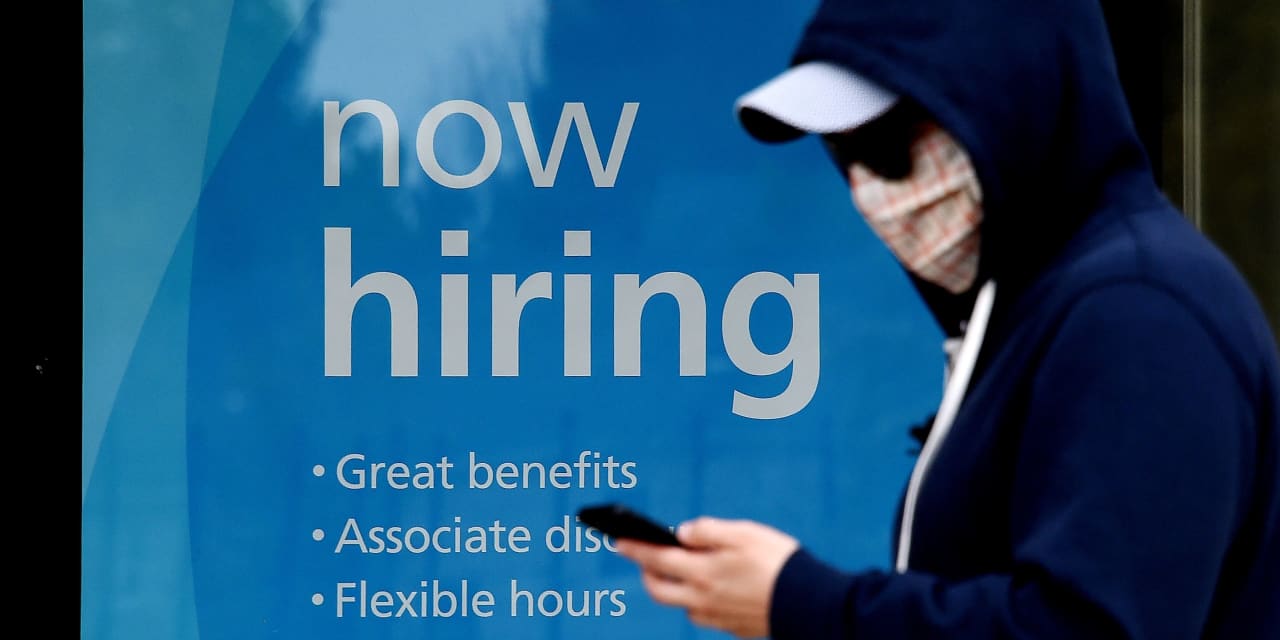 U.S. stock benchmarks rebounded sharply Friday afternoon in whipsaw trade, as the rise in bond yields steadied, after a stronger-than-expected monthly jobs update from the Labor Department that offered evidence of an economy recovering from the effects of COVID-19.
All major sectors in the S&P 500 index gained while the tech-heavy Nasdaq climbed more than 1.5% as giants Amazon.com Inc. and Apple Inc. recovered but the index still closed lower for the week.
How are stock benchmarks performing?
The Dow Jones Industrial Average DJIA, +1.85% closed higher by 572.16 points, or 1.9%, around 31496.30, after trading as high as 31,580.33 and a low at 30,766,81 and posted a 1.82% this week
The S&P 500 index SPX, +1.95% added 73.47 points to close at 3,841.94, a gain of 2% and a 0.81% gain for this week
The Nasdaq Composite Index COMP, +1.55% gained 196.68 points, or 1.6%, to settle at 12,920.15, its best one-day rebound in about a year but still ended down 2.06% this week
On Thursday, the Dow ended 345.95 points, or 1.1%, lower at a one-month nadir of 30,924.14, the S&P 500 fell 51.25 points, or 1.3%, to 3,768.47, the Nasdaq Composite Index slid 274.28 points, or 2.1%, to reach 12,723.47, its lowest in three months and within 27 basis points of a 10% correction.
For the week, the Dow gained 1.8% and the S&P 500 added 0.8%. The Nasdaq was 2.1% lower for the week, but Friday's rebound put it back above water for the year to date, if barely.
What drove the market?
Markets are wrestling with good news on the economic front and what that means for bond yields after the U.S. created 379,000 new jobs in February—marking the biggest increase in four months. Economists surveyed by Dow Jones had expected 210,000 jobs to have been added. The unemployment rate slipped to 6.2% from 6.3%, although economists widely believe the real rate is much higher.
"It's kind of a tug-o-war," explained Randy Frederick, vice president trading and derivatives at Schwab Center for Financial Research, told MarketWatch via email.
"Is good news good news, even if it means higher rates? I'm not sure the market has answered this question just yet," he said.
The jobs data suggest that vaccination distribution and fiscal stimulus from Congress is providing a jolt to the economy and may push up inflation in the aftermath of the recession caused by the public health crisis .
"At a time when the market was already grappling with the steep rise in bond yields, the significant upside surprise to nonfarm payrolls will not be welcomed by bond investors," wrote Seema Shah, chief strategist, at Principal Global Investors.
Friday afternoon, the yield on the 10-year Treasury note TMUBMUSD10Y, 1.567% was down about 1 basis point to 1.553%, after a sharp rise this week in the wake of comments from Federal Reserve Chairman Jerome Powell on Thursday that were seen as insufficiently concerned about the possibility of inflation as the economy recovers with help from another dose of fiscal stimulus from Washington.
However, Powell did say that the bond market selloff during the past few weeks has his attention and the central bank wouldn't sit back and let the financial market conditions tighten broadly.
Meanwhile, the President Joe Biden's $1.9 trillion COVID-19 financial aid plan is inching through the Senate and is expected to gain approval sometime over the weekend.
Friday's jobs report is great for the economy but more complicated for markets, said Brad McMillan, chief investment officer for Commonwealth Financial Network.
"Implications for the markets are mixed," McMillan said. "Faster job growth means rates are likely to keep edging up, as faster growth likely means more demand for capital, and potentially more inflation. That is hitting valuations for both bonds and stocks, which should be a headwind for markets," he added.
The market's volatility reflects a so-called rotation out of highflying technology stocks, viewed as expensive by some measures, to other areas of the market considered undervalued, including energy and financials, amid the rise in bond yields.
Which stocks were in focus?
Chevron Corp. CVX, +4.31% said Friday it has entered an agreement to acquire the 33.925 million shares of Noble Midstream Partners it doesn't already own in an all-stock deal. Shares climbed 4.2%.
Hibbett Sports Inc. HIBB said Friday it had net income of $23.9 million, or $1.39 a share, in its fiscal fourth quarter to Jan. 30, up from $6.0 million, or 34 cents a share, in the year-earlier period. Its shares were off 3.9%.
Shares of Norwegian Cruise Line Holdings Ltd. NCLH dropped 12.3% Friday, after the cruise operator said it started a public offering of 47.58 million shares.
Shares of Big Lots Inc. BIG ticked up Friday, after the discount retailer reported a fiscal fourth-quarter profit that beat expectations and same-store sales that missed, amid a weaker-than-expected December, but provided an upbeat first-quarter outlook. Shares closed 2.2% higher.
GameStop Corp. GME, +4.07% shares closed 4% higher in choppy trade, notching a weekly gain of over 35%, and just missed closing with a market cap of $10 billion.
How did other assets fare?