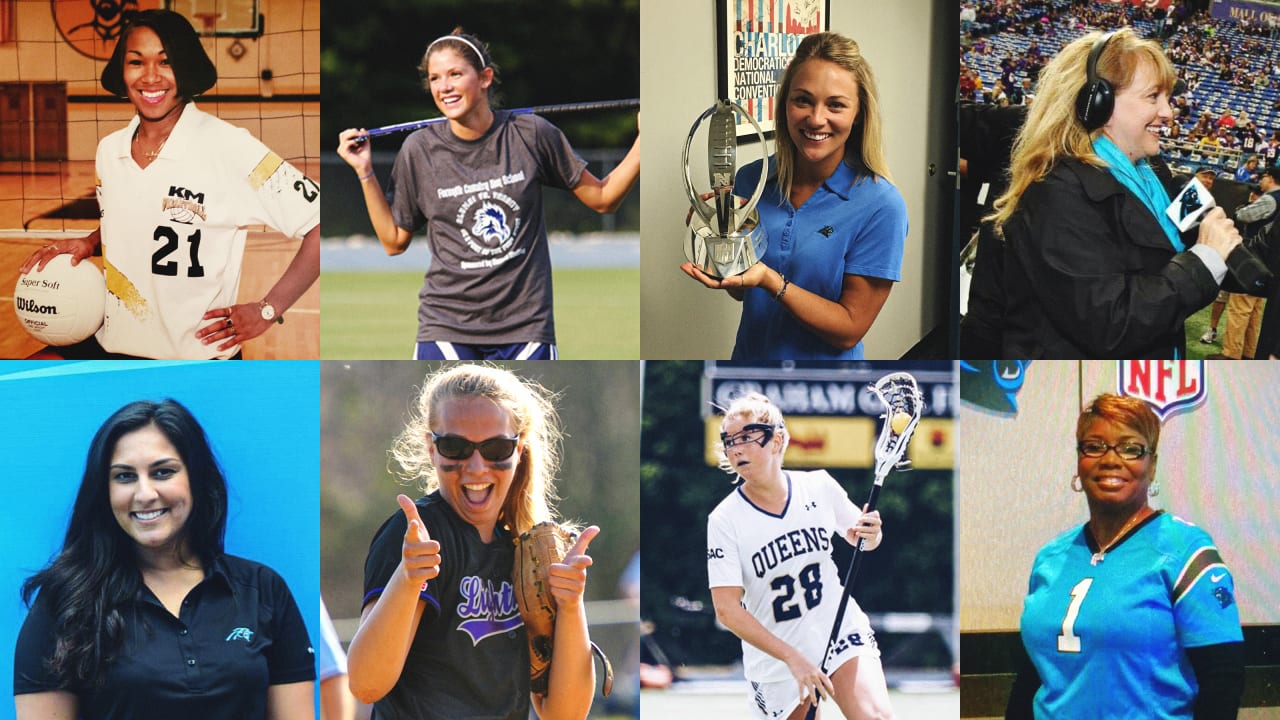 CLAIRE BURKE | CAROLINA PANTHERS, EXECUTIVE ADMINISTRATOR TO THE GM/FOOTBALL OPERATIONS
Did you play sports growing up?
I played soccer and field hockey growing up. I started playing soccer when I was about five and played all throughout college. I walked onto the Wofford soccer team the spring season of my freshman year and played through my junior year. I played field hockey starting in sixth grade and played through my senior year. I was named all-state and played in a National Tournament in West Palm Beach Florida my junior year of high school.
What is a lesson you learned playing sports that you still apply in life today?
In high school, I received the opportunity to be a captain on both the soccer and field hockey teams. I learned that having the captain's band came with a lot of responsibility. It wasn't just a title, but it was an opportunity to set a standard for those around you. Being a leader (even without the "captain" title) allowed me to find ways to support and inspire those around me. Every day we, as leaders, have an opportunity to inspire and support those around us. There are challenges at every turn, but I find that working with a group that can inspire each other to be better and pick each other up when things get tough is incredibly valuable. Being a leader also means that you're never above getting in the trenches with your team and getting it done. The team atmosphere is important, especially when you know that everyone is in it and willing to do whatever it takes together.
How would you explain the value of having more women working in the sports industry?
The value of having more women in the sports industry is huge. Women are able to come at problems differently — different emotions, different thought processes, etc. I think having more women would be an incredible asset to process streamlining and so many other facets of the industry.
What has been the most rewarding project that you've worked on at TSE?
Having the opportunity to work with the football operations group for Super Bowl 50 was an amazing experience. I was working in sponsorship at the time and was brought over to assist the football side with Super Bowl operations. The long nights and exhaustive work was overshadowed by incredible camaraderie and unforgettable memories. Obviously, we didn't have the outcome we were hoping for, but working with a group of people to get it done and having fun along the way was exactly how I will remember it.
What is your approach to dealing with adversity when you face a challenge?
Adversity can come in many forms. I think the biggest thing for me when faced with adversity is remaining confident in my abilities and remaining true to myself. You're bound to come across challenges, so knowing your strengths is important, but also being open to learning from the experience can take you a long way as well. There is always an opportunity to learn something new when faced with a challenge or difficult situation.
How do you manage the time commitment of working long hours and weekends in sports?
I've been lucky enough to work in sports since I graduated from college in 2009, so, for me, it's really just been the standard. As with anything, the time commitment sometimes has its challenges, but when you have a great group to work with, the time doesn't seem to be too much of a factor. Because of the amount of time we work, this profession gives you a unique opportunity to grow into a family outside of your home. We may bicker like brothers and sisters, but we really do enjoy working with each other and working as a team to get the job done.
If you were creating a pre-game playlist, what would be the one song that must be on it?
"Good Vibrations" — Marky Mark and the Funky Bunch. Throwback? Yes. Instant mood booster? Also, yes.