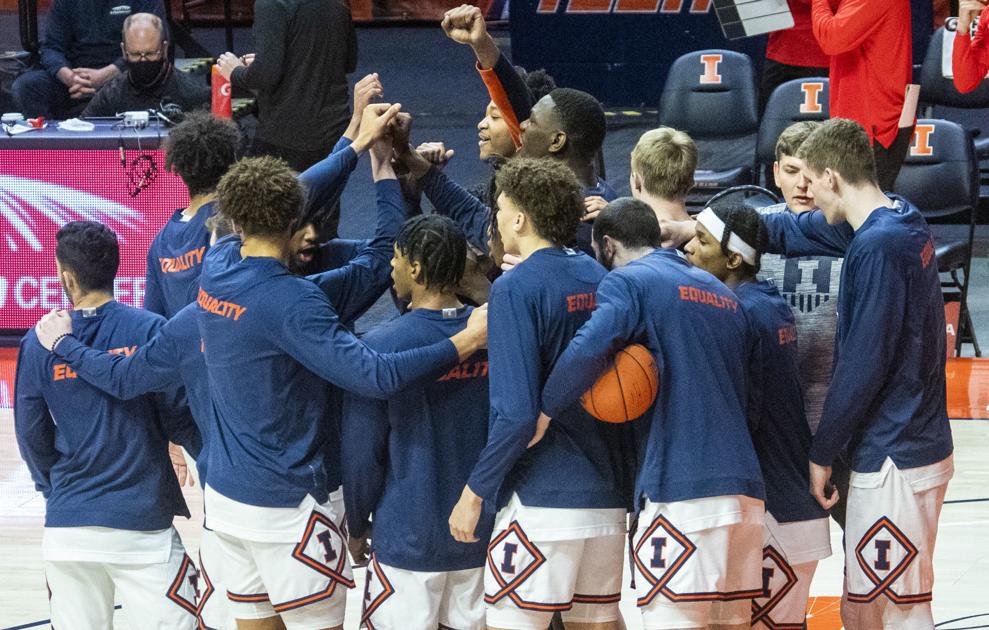 Sheldon Jacobson understands the allure of filling out an NCAA tournament bracket.
And the nine quintillion combinations — that's 9,223,372,036,854,775,808, to be exact — that are out there in trying to successfully predict the entire 68-team field every March.
Jacobson, a University of Illinois computer science professor, has helped run the BracketOdds website since 2011. The site offers up mock tournament brackets and seed projections, filling college basketball fans' appetite during the winter months leading up to Selection Sunday.
With no Selection Sunday last year because of the COVID-19 pandemic, this year's event is set for March 14. Jacobson expects Illinois to be in the 68-team field, with BracketOdds giving the Illini a No. 5 seed before Friday night's home game with Iowa.
BracketOdds has had Illinois as high as a No. 2 seed this season. Jacobson anticipates the Illini will wind up either a No. 3 or No. 4 seed.
"Home losses to Maryland and Ohio State dropped them," Jacobson said. "A No. 2 seed is reachable, but it means beating Wisconsin and Michigan."
Illinois is set to have two games with Wisconsin in February and play at Michigan on Feb. 11 — if the Wolverines are clear from the COVID-19 pause by then.
With the Illini likely back in the NCAA tournament for the first time since 2013, they'll have plenty of company from their Big Ten brethren. Before Friday night, BracketOdds had Michigan (No. 1 seed), Iowa (No. 2 seed), Ohio State (No. 3 seed), Wisconsin (No. 3 seed), Illinois (No. 5 seed), Minnesota (No. 7 seed), Purdue (No. 7 seed), Indiana (No. 9 seed) and Rutgers (No. 11 seed) in the field. Maryland, Michigan State and Northwestern missed the cut.
"Eight look solid," Jacobson said. "Michigan State has some work to do, if they survive the season. Rutgers looked good, faded, but should make it. Maryland is a dark horse."
One big obstacle in trying to project the seeds and the teams who make the NCAA tournament this season: the abrupt postponements and cancellations.
"Each game is an opportunity for a team to establish their credibility for the tournament," Jacobson said. "When games are missed, those opportunities are lost. I believe the committee can only use the performance of the games played to choose teams and seed them. We are seeing underclass-heavy teams are suffering, while teams with many juniors and seniors are surviving."
One more variable to consider in projecting teams this season: conference tournaments. What happens if a low-major or mid-major conference has two teams worthy of a bid, but come March, those conference tournaments aren't played?
"If they are tied, who gets the bid? I would guess they both do," Jacboson said. "The environment is fluid, and it must remain so until Selection Sunday."
Another factor many basketball fans don't want to consider, but it'd be foolish not to amid the pandemic. Will all 68 teams selected for the NCAA tournament actually end up playing?
Jacobson has an idea if a team has to drop out of the tournament days before the games are slated to begin on March 18.
"I expect the NCAA to announce the 68 teams and then have a group of next-up teams if any need to drop out," he said. "These teams are typically the last four out, so there should be no surprises. The NCAA may need to create a group of 8-12 teams to be ready to play. Much like the NHL is using with taxi squads, we (could) have taxi teams. Since all the games will be held in Indiana, moving games around will be disruptive, but doable."
Number crunching and analytical data aside, Jacobson is like nearly every college basketball fan. He wants to see the NCAA tournament take place this March.
"The madness will be even greater this year," he said. "Winning is great, but playing is even better. The players need to have the chance to play. The fans want to watch the games. As a perennial optimist, there is hope, and March Madness is one seed of hope for people to hold on to and enjoy."
Matt Daniels is the sports editor at The News-Gazette. He can be reached at 217-373-7422 or at mdaniels@news-gazette.com.