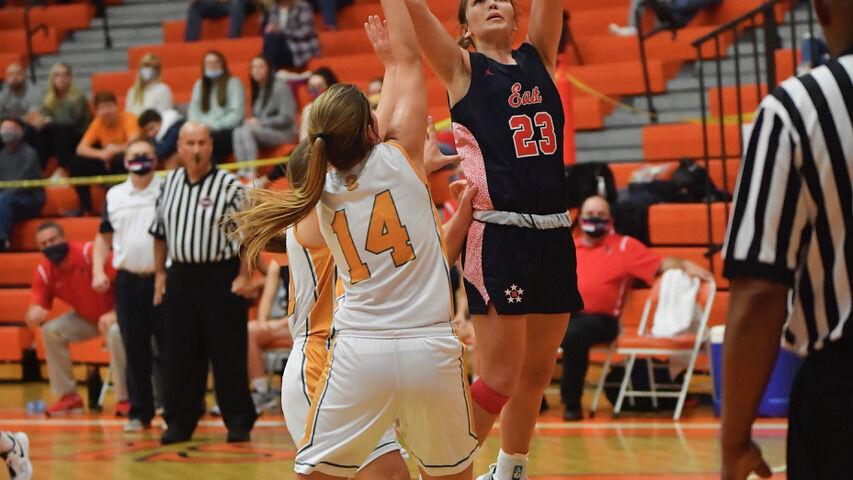 Jenna Hare does a little bit of everything for any Sullivan East sports team of which she is a member.
Lately, the sophomore sensation has been a featured part of the Lady Patriots basketball team that is in first place in the Three Rivers Conference and has posted a 14-3 record with an unblemished mark in league play.
Hare is East's top scorer and rebounder, pouring in 17.3 per contest and grabbing 8.5 boards. She is not, however, East's only weapon on the hardwood.
Hayley Grubb is netting 12.8 and pulling down 6.2 rebounds while Emma Aubrey is averaging 11.8. Riley Nelson is helping out averaging 7.5 assists and racking up 6.2 rebounds.
"It's nice to know that you can depend on everybody that's on the court at all times," Hare said. "I don't feel nervous passing it to anybody or anything like that.
"It's relaxing playing with good people and it's really fun."
It's safe to say that Sullivan East is a dangerous team heading into February and the looming district tournament.
"The season started off rough because we didn't get to do a whole lot during the summer," Hare said. "We only had a few practices before, but we weren't really connected yet and we weren't really a 'team' yet."
FAMILY AFFAIR
You could say that sports is almost a part of Hare and that is by no accident.
For starters, her father, Hank, was an All Big 7 Conference player for the Patriots in the late 1980s. He went on to score more than 1,200 points in college at Bristol University, Northland Pioneer Junior College and Trevecca Nazarene.
While at Northland Pioneer, he earned academic All-American honors and today, the Arizona junior college has a scholar-athlete award named in his honor.
"I do get compared to Dad sometimes, but it's great because he helps coach me in the offseason," she said. "He's a big reason for where I'm at today."
Her uncle Andy, who is also the principal at East, was a three-time all-conference and all-region selection in baseball. He remains the all-time hits leader in school history and was a three-time captain at Milligan College.
"It's nice to see a familiar face at school sometimes," she said. "Going through the school sometimes, I get to see my friends a lot, but it's nice to see a familiar face like his, too."
Her aunt Krista (Ivester) is one of the most outstanding female track athletes in area history. She won the state high jump in 1986 and was runner-up the following year. At the 1987 meet, she competed in four events and was all-state in three of them.
She went on to Middle Tennessee State, where she won the Ohio Valley high jump title and helped the Lady Blue Raiders to an indoor conference title.
For many years, the annual Times-News Relays most outstanding female in the field events was named in Krista's honor.
"(Krista) has always stressed that academics are just as important as athletics," she said. "She was brilliant and she tells me not to get too stressed when things aren't going the way I want."
"She's more of the person that helps calm me down."
To top it all off, Hare's grandfather is legendary Sullivan Central basketball coach Dickie Warren, who accumulated a 972-408 record while coaching at both Sullivan High and Central before retiring in 2000 after 43 years.
"Ever since I was little, I always went to his basketball camps and that's where it all started for me," she said. "It's kind of stressful knowing that you have that type of lineage, but it's nice because he's passed down a lot of needed information to me."
SECOND SPORT
Basketball isn't the only sport in which Hare is a standout. In the fall, she took on a major role on Tracy Graybeal's volleyball squad. The Lady Patriots beat perennial power Sullivan South for the first time since 2014 in the regular season.
"Playing for Coach Graybeal is great," Hare said. "You can definitely tell that she knows what she's doing and knows how to coach. You can trust those kinds of coaches that have been around it for a long time."
East was eventually eliminated by the Lady Rebels in the Three Rivers tournament semifinals.
"It was a disappointing end because we had beaten South once and it would've been nice to beat them when it mattered the most," Hare said. "I still have two more years, so hopefully the next two years we can do better."
OFF THE COURT
In the classroom, Hare carries a flawless GPA and has a desire to be an orthodontist.
"I probably put more pressure on myself to do well in academics more than athletics," she said. "I know that I can do good things academically and I want to live up to my own standards."
Hare is also strong in her faith and is highly involved.
"I go to church every Wednesday and Sunday," she said. "A lot of the people on the basketball team go to church where I do, so we get to connect there, too.
"Faith is the most important thing in my life. If you don't have faith, you don't have hope. I read my Bible every day and pray as much as I can. I try to spread the good word as much as I can."