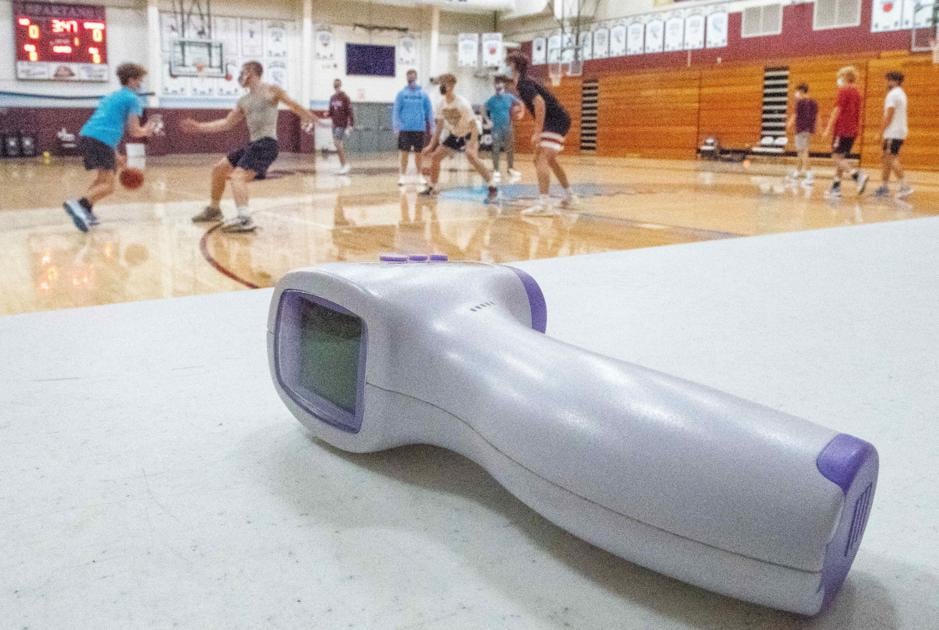 Let the games begin.
After more than three months of no high school sports in Illinois amid the COVID-19 pandemic, the Illinois High School Association announced revised and condensed season schedules for a multitude of sports on Wednesday afternoon.
Locally, all schools in The News-Gazette's coverage area are in Region 6, which is currently in Phase 4 of COVID-19 mitigations put in place by the Illinois Department of Public Health. That means sports can happen while the region is currently in Phase 4, with five of the 11 regions in Illinois right now at Phase 4.
Boys' basketball, girls' basketball and boys' swimming can start their seasons as soon as possible, with the season ending for all three sports on March 13. All teams will need to have seven practices before beginning their seasons, and no state series will take place in these three sports.
Football, which was pushed from its original start date last fall to the spring last summer, is scheduled to begin practices on March 3, with first games set to kick off March 19 and the season ending on April 24. No state playoffs will take place.
Volleyball will run from March 8 through April 24, with boys' soccer set to go from March 1 through April 17. No state series will take place with either sport.
Baseball, softball, girls' track and field, boys' track and field, girls' soccer and boys' tennis are set to have the longest seasons, running from April 5 through June 19. The possibility of a state series in those sports exists, but it is to be determined.
Wrestling is set to have its season last from April 19 through June 12, but the IHSA said no state series will take place.
"We understood the high level of anticipation surrounding today's announcement, along with the scrutiny that will accompany it," IHSA Executive Director Craig Anderson said in a statement. "Ultimately, the Board adhered to its stated goals throughout the pandemic: providing an opportunity for every IHSA student-athlete to compete safely this year and maximizing opportunities for traditional IHSA spring sports after they lost their entire season a year ago. I recognize that many schools and coaches could likely offer a tweak here or there that would have, in their opinion, made it 'better' for their school or sport. Our Board faced an impossible task with a litany of factors. They were conscientious in considering every possibility, and I believe their decisions today are a positive step for the mental, emotional, and physical well-being of our students. We are excited to channel our energy into creating as many positive experiences for Illinois high school students as we can between now and the end of this extraordinary school year."
The decisions by the IHSA mean no state series or tournaments will take place in Champaign during the 2020-21 school year. Memorial Stadium was set to host all eight state football championship games last November, with State Farm Center the host venue for boys' basketball and wrestling. The boys' basketball state tournament was set to tip off in 2021 in Champaign, ending a 26-year absence after the tournament left Champaign for Peoria in 1995. The IHSA has a three-year contract with Champaign for the boys' basketball state tournament, and that contract will start with the 2022 state tournament.
But after baseball, softball, track and field and other spring sports were canceled in 2020 because of the pandemic, Anderson said the IHSA Board wanted to "do everything in their power to prevent spring sports from going two consecutive years with no postseason IHSA play."
"There are obviously no guarantees, as risk levels by sport and local region mitigation statuses will factor significantly," Anderson said. "Postseason could mean being limited to a Regional or Sectional level of competition, but we have not ruled out the idea of playing a full state tournament in these traditional spring sports if possible. The overwhelming feedback we have heard from athletic directors and coaches was that returning to play in all sports should be the main goal."
Football is the only sport that will require more than seven practices before games can start, with 12 practices set for the resumption of football. If a student-athlete transitions from basketball or boys' swimming into football, they will need to participate in practice on 10 different days prior to their first game.
IHSA guideliens require all athletes to participate in masks, with the exception of swimming and diving and outdoor events where social distancing can happen. All game personnel not participating are also required to wear masks and adhere to social distancing.
"We still have regions of the state that need to make strides in order be able to play basketball this winter," Anderson said. "That underscores the importance of our schools following all the mitigations and precautions. We need to maintain a positive trajectory not only to get winter sports going, but to make sure we do not have any regions regress before spring and summer sports have their opportunity. We can all do our part by wearing a mask and socially distancing."
The Board also agreed to consider other participation opportunities for a given sport, like basketball, if the sport is unable to be played in a specific region.
"We have said from day one that if and when we were allowed to play again this year, the situation would be fluid," Anderson said. "We don't feel great about the notion of some schools falling behind based on their Region's status, but also recognize that we are running out of time and can't afford to hold back the Regions that can play."