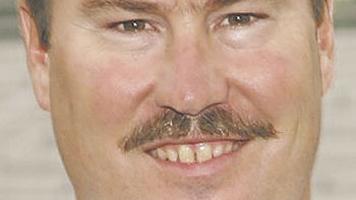 ROCKTON—Hononegah sports are on their way back.
Indians athletic director Steve Cofoid said that winter sports in the "low-risk" category may begin practicing immediately and also compete in short order.
The change was made when Hononegah's region was deemed Tier 1, allowing the restrictions imposed on certain sports to be lifted.
Boys swimming, boys and girls bowling, and both the cheer and dance teams were cleared for activity.
Cofoid said those programs were eager to get started.
"It was a very quick turnaround," Cofoid said. "We went from not being able to gather to moving to Tier 2, and then almost immediately to Tier 1 within a week. That's great news, because now in some sports, we can get kids out there competing and doing what they love."
The bowling programs were first to act, with the rest of the activities not far behind.
"Bowling has their first practices this evening," Cofoid said. "Once you have seven practices, you can begin competition. Swimming is trying to see when they can have pool time, coordinating between Boylan and NorthPointe. Cheer is getting started, and the dance team right now is on hold."
The restrictions helped basketball's status, but not by much.
"What Tier 2 does for basketball is it allows them to be able to not only practice, but hold intrasquad scrimmages," Cofoid said. "However, as a district, we agreed that if they were not able to play other teams, it wasn't worth the risk of transmitting the virus just to scrimmage.
"So the basketball teams can gather together and do certain drills, but they can't go full-out scrimmage, and they can't compete in games at this point because they are considered a high-risk sport. I'm not sure at this point what are programs are going to do with that."
With the way the legislation is currently written, cases would have to fall to next to nothing, or the population would have to be vaccinated, in order for the "high-risk" sports to fully compete.
"Sports like basketball now, and looking ahead to girls volleyball and football, my prediction would be that those get moved to a later season," Cofoid said. "But that's just a prediction. With baseball and softball being low-risk sports, they could get moved back to the spring season. But all that is a ways down the road."
Cofoid said seeing programs just a few miles to the north of Hononegah being able to compete, albeit with some restrictions, was difficult to deal with at times.
"It's definitely frustrating," Cofoid said. "To be that close and to not be able to have the kids go out and compete is tough. But I truly believe the IHSA is doing everything it can to get these kids back out there. A lot of this is just out of their hands at this point. And I respect the difficult decisions the governor has had to make when it comes to these things.
"I'm trying to focus on the positive, and the positive is that there's been real movement in the last week or so to get our athletes on the field. We are having an athletic director meeting soon to determine schedules for the conference season, and hopefully they can get started soon."