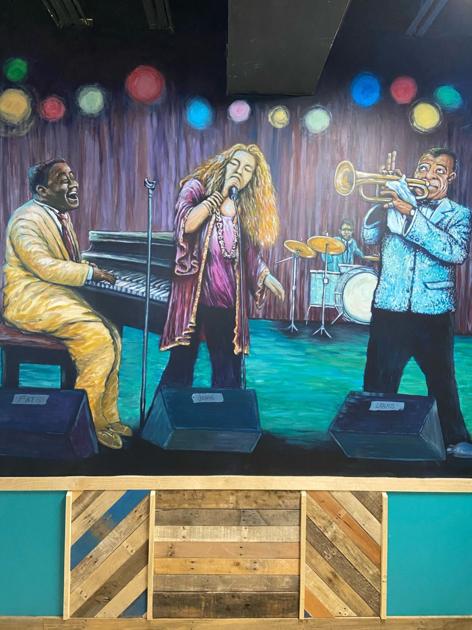 There's a familiar face behind Whipper Snapper's Southern Grill, a new family-style restaurant under development in Danville.
Co-owner Betty Williams was the owner/operator of Cookies by Design in Champaign for 14 years before selling it in 2009.
Williams wll be opening her new venture with partner Bobby Silor at 77 N. Gilbert St., Danville, at the Day's Inn by Wyndham.
Silor has operated dozens of restaurants, mostly in Florida and Louisiana, she said.
Whipper Snapper's Southern Grill has been under development since April, and work getting it ready to open has been slowed down by the pandemic. But Williams said she hopes to open for drive-thru and carry-out by the end of February.
And if dining in is allowed by the state at that point, she may also begin serving at tables then, too, she said.
"I think I can serve 100 downstairs and 200 upstairs," she said.
The decor inside the restaurant on both floors features numerous murals by artist Mike Harper.
Upstairs, there will be a banquet room with tables and a buffet, and it's being decorated in a way that customers can feel like they're dining aboard a ship, Williams said.
Downstairs will offer a buffet and table service, and it has a southern Louisiana vibe, she said.
The menu will include a variety of stuffed baked potatoes, Cajun and barbecue dishes, steaks, prime rib, salads, burgers, chicken, fried catfish and a lot more.
Caterer moving
Drummer Creek Catering will be moving its kitchen to Gibson City's Railside Golf Club this spring, owner Adam Elder said.
The catering business is currently renting a commercial kitchen, and the move will provide some extra space and access to a banquet room and carry-out window, he said.
Due to cancellations of events during the pandemic, Elder said, the catering business has been providing some carry-out meals on certain days.
After the move, he said, carryout meals will likely be made available once a month.
Drummer Creek Catering specializes largely in barbecue, such as pulled pork and brisket, Elder said. The menu will be expanded next month to include steaks, whole chicken breasts and pork tenderloins.
In business since 2017, the catering business is run by Elder and his wife, Christy, and they both also work in other fields.
Adam Elder is the director of clinic quality and safety at Gibson Area Hospital and Christy Elder is a nurse.
Attention artists
Urbana's Arts and Culture Program has extended the deadline for grant applications to the end of the day Jan. 24.
Artists, arts organizations and festival presenters for creative projects can share in up to $90,000 worth of grant funding.
The grant program will help fund arts provided for public display, such as creative writing, dance, films, videos, music, theatre, visual arts, crafts, performing arts, spoken word, landscape architecture, architectural arts, multimedia, emerging media and environmental arts, according to the city.
More information is at urbanaillinois.us/artsgrants.
Improve your leadership
Here's an opportunity for companies to give supervisors and managers the skills they need to do their jobs successfully:
Danville Area Community College is offering Leadership Boot Camp in eight half-day sessions led by Steve Welland from February through May.
Registration deadline is Jan. 29. Call Brittany Woodworth at 217-443-8779 or email
Some of the topics included are communication, building trust under pressure, realizing talent in others, delegating and managing priorities. The cost is $1,650 per person.