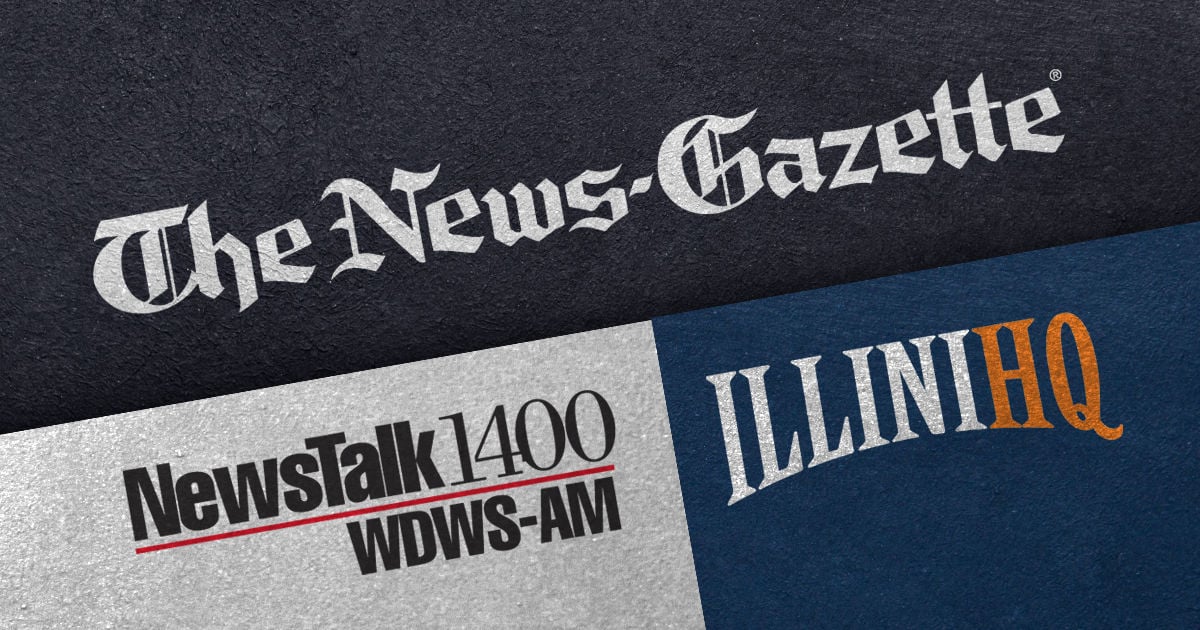 The local high school sports scene has been silent since Nov. 17, when updates to the Illinois Department of Public Health's COVID-19 guidelines caused the IHSA to pause its events.
The only actions permitted since: one-on-one exercises between winter sports coaches and athletes, and outdoor workouts for any sport in groups of 10 or fewer.
That will change moving forward, though not all sports are receiving the same treatment.
Gov. J.B. Pritzker on Friday announced that youth and adult recreational sports can resume in regions that improve from Tier 3 to Tier 2 in the IDPH's COVID-19 mitigations.
For the IHSA's lower-risk winter sports — badminton, bowling, competitive cheer and dance, girls' gymnastics and boys' swimming and diving — this means teams "can practice immediately and will begin competition within their geographic region on a future date to be determined by the IHSA board" once their regions hit Tier 2.
"That's great news," Champaign Central boys' swim and dive coach Dave Young said.
"I know I've got a lot of kids that are anxious to swim — 32 kids that signed up to swim and dive — and I'm just happy for them and especially those seniors."
Pritzker said Friday that Regions 1 and 2 in the northwest and Region 5 in the southeast have reached Tier 2 status. Region 6, which encompasses The News-Gazette's coverage area, could reach Tier 2 by Saturday with one more day of decreasing hospitalizations. As of Friday, it remained in Tier 3 with all sports still paused.
"That would just make (the athletes') month, because I know it's been a struggle for us," Urbana boys' swim and dive coach Michelle Zimmerman said. "(We'll be) making the most of the time that we have and being as safe as possible with the allowances we've been given and trying not to take it for granted."
IHSA Executive Director Craig Anderson said in a Friday afternoon press release he anticipates a competition start date to be in place for lower-risk winter sports prior to the IHSA Board of Directors' Jan. 27 special meeting. The board plans to "review sports schedule framework" for the remainder of the school year at that meeting, according to a separate press release.
Contact days for spring and summer sports can begin Jan. 25 for schools in Tier 2 regions. Those contact days must be conducted within IDPH rules for specific sports. Lower- and medium-risk sports can hold intrasquad scrimmages, while higher-risk sports are restricted to non-contact workouts.
"This is certainly positive news for three regions of the state, but we still have a long way to go until we get all of our student-athletes back to being active," Anderson said in a statement. "High school student-athletes are hurting from a mental, physical and emotional standpoint, so we hope this is the first step toward getting that back to some normalcy."
In order for regions to move from Tier 3 to Tier 2 in IDPH mitigations, the following benchmarks must be met:
A test positivity rate below 12 percent for three consecutive days, as measured by the seven-day rolling average;
Greater than or equal to 20 percent available staffed ICU and medical/surgical hospital beds for three consecutive days, on a three-day rolling average;
A sustained decrease in the number of people in the hospital with COVID-19 for seven out of 10 days, on a seven-day average.
These benchmarks also apply in going from Tier 2 to Tier 1, and from Tier 1 to Phase 4. The only differences are in test positivity rate — it must fall below 8 percent for three consecutive days across a rolling seven-day average to get from Tier 2 to Tier 1, and below 6.5 percent to get from Tier 1 to Phase 4.
"There are regions that are going into lower tiers of mitigations, and in those tiers, there are youth sports and recreational sports for adults that are opening up," Pritzker said. "I think that's a good beginning. I'd like to see the numbers continue falling, regions meeting the metrics before more open play for sports."
Updated IDPH sports guidelines indicate medium-risk sports can engage in intra-conference and intra-region competition if their region hits Tier 1. Higher-risk sports could hold intra-squad scrimmages at Tier 1, which suggests regions would need to reach Phase 4 in order for football, basketball and wrestling to happen this school year.
"My heart goes out for the coaches and kids in those other sports," Young said. "I'm going to do my best recruiting any kids that would normally play basketball or wrestle (to join the swim and dive team)."
Barring a setback in Region 6 meeting the required standards to jump from Tier 3 to Tier 2, local lower-risk winter sports programs soon will be in line for a condensed competitive season.
Originally, the IHSA's 2020-21 winter sports slate was to last from Nov. 16 through Feb. 13. The length of the revised winter season, minus basketball, is not yet clear.
"There's definitely a lot of hope to be held, especially with this recent news," Villa Grove dance coach Sarah Bouton said. "Sports are really, really important for high school students because that can be their safe place."