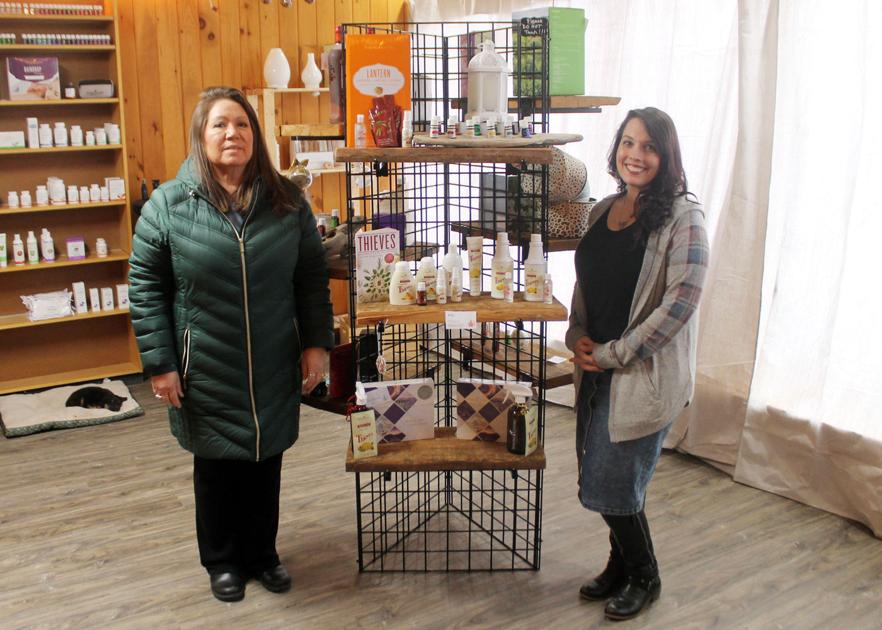 SALAMANCA — A new business has sprung up on Broad Street bringing health and wellness to the Salamanca area as Back to Our Roots offers people a way to heal their bodies naturally.
Business partners Tina Hice and Tina Beck have opened their business at 26 Broad St., across from Jefferson Street Park, with the goal of having a place to give people options to achieve whole body wellness.
"We believe people can be their own healers and, when at all possible, we should use nature to heal our bodies," Hice said.
Hice is also an independent distributor for Young Living Essential Oils that will be offered, along with supplements and Nature's Sunshine products. She said they will also have therapies available including Clear Mind Focus, which is a light and sound therapy, detoxing facials and ionic foot baths.
The business will also carry local maple syrup and other health products. In the near future, they are planning to add a lymphatic detox machine.
"We have something called an 'iTOVi,' which is basically a frequency scanner that will scan your body," Hice said. "It will give you a report on your emotions, the structure of your body, your different body systems and will tell us what product will best support your body."
A longtime resident of Salamanca, Beck has some experience in the retail business because she was the former owner of Native Roots Herb Shop. She's a wife, mom and grandmother who is active in her community and church.
Hice came to the area almost 15 years ago with her husband, Eric, and five children. They made their home in Little Valley, and her husband took his post as pastor at the Center Street Baptist Church in December 2015.
Hice said their son, Jeremiah, was her inspiration for starting the business because he was born with a very rare disease called Behcet's that causes blood vessel inflammation throughout the body. He also lives with Autism. She began researching health and wellness in an effort to help her son.
"With Behcet's, Jeremiah was so sick and in pain all the time. He had debilitating sores on his entire body, but mostly in his mouth," she said. "For 19 years, we had taken him to doctors pretty much all over the Eastern Seaboard, New York City and Cleveland Clinic. He's been to doctors and all kinds of specialists for most of his life, but he never had any relief from any of the treatments, diets or medicines, whether they were holistic or traditional."
Hice said somebody finally told her about essential oils but she had very little knowledge of them. She said they tried the oils on her son and he had such a remarkable improvement, for the first time in his life, that it "literally changed everything." Because of this life-changing improvement to his health, she said Jeremiah was able to go away to school.
"To watch him change, really put me on this path of learning about health and wellness and being open to it," she said. "People started contacting us and asking what happened to him. They wanted to know what caused the improvement. This business just happened overnight."
Hice said her family is working together at this new venture. She said sons Zach and Kyle have already been a huge help at the shop putting in the floors and furniture. They will be helping out at the store along with Jeremiah and daughter Amelia.
"The Native American people here, in general, have been a blessing to our family so we love the idea of bringing this business onto the reservation," she said. "Tina (Beck) and I hope to see the Seneca people go back to their roots with nature and learn how to heal their bodies. We want everyone to learn this and we'll be a resource."
Hice said they plan to have free education and classes weekly, if not more, to help people learn about healing with natural products. She said they meet in person whenever possible, but they also offer virtual classes.
For more information on the products and services offered by the business, call 265-2335.