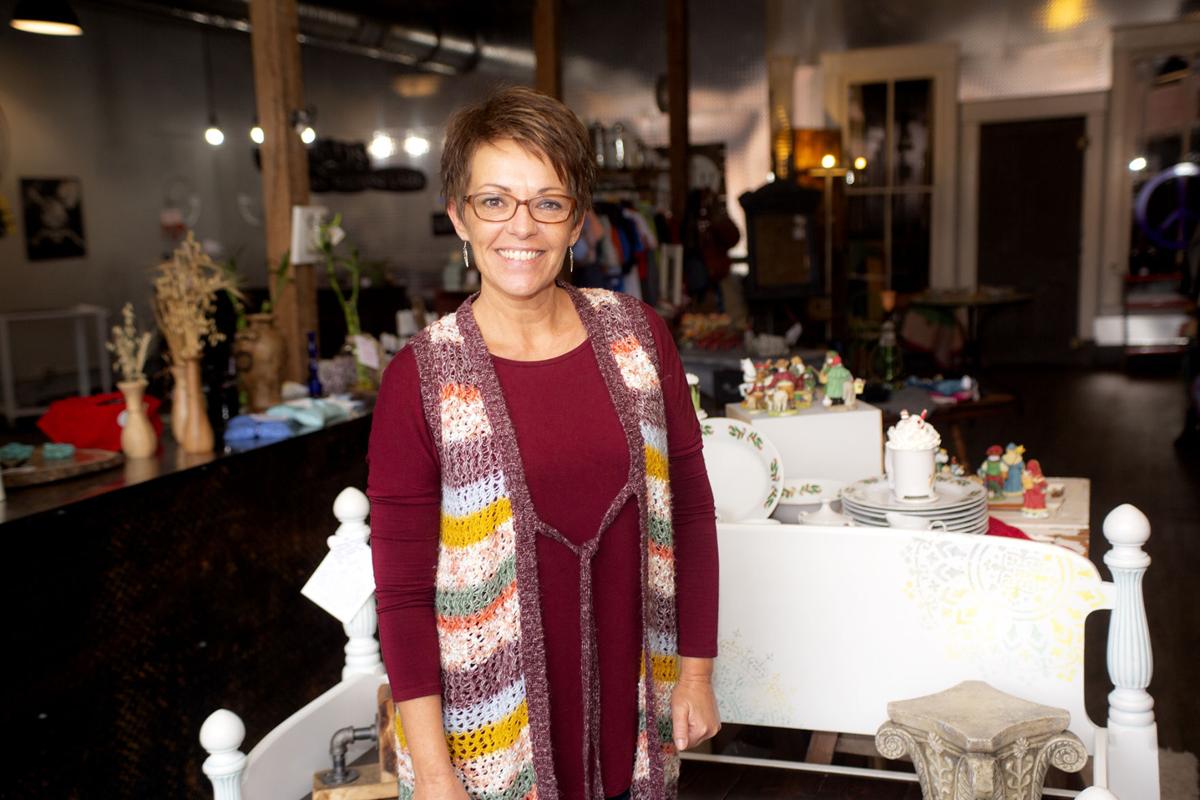 Entrepreneurs often spend months or even years trying to find just the right business. In other instances, the business just seems to find the entrepreneur. Such is the case with Leigh Blackorby-Sronce and her business, Designs by Precision Laser.
Development of the Pinckneyville company, was, by her admission, "an accident."
"My husband, Brian, started his own laser cutting, powder coating, fabrication and sandblasting business in Tamaroa in 2012," she explains. "A friend in Jerseyville asked him to cut a name plate for her. She posted a picture of it on Facebook. Next thing you know, I'm getting calls all of the time for signs. It really just happened."
The calls came so frequently that a storefront location on South Walnut Street in Pinckneyville became a necessity, as did a unique identity. With that, Designs by Precision was born. Her company does the artistic work and Sronce's business, Precision Laser Cutting Services, does what might be called more industrial work — things like machine parts and hitches.
"They do the boring things," Blackorby-Sronce says.
The creations from Designs by Precision Laser are far from boring. Ranging from Christmas ornaments to large signs for homes or barns, practically anything can be cut from metal ranging from 1/8 of an inch to 2 inches thick.
"There's nothing we can't do," she says. "For example, we could take a photo of someone's barn and put that on a sign. We even have had customers bring us a sketch and we can turn it in to something very special."
Blackorby-Sronce says nearly all of the company's creations are custom orders and each work can be powder coated in practically any color.
With each order, Blackorby-Sronce gets to let her creative side shine.
"Sometimes our customers know exactly what they want, but often people come in with a project that needs a little something. They'll say, 'Here's my granddaughter's name and we want to do something original for her to put in her room.' That's when I help them figure out exactly what they want — the size, the color, things like that," she explains.
She adds working with the customers has become her favorite part of the business.
"I love helping them through the process of designing just the perfect gift or item for their own home or business," she says. "I've made a lot of friends through this journey."
Blackorby-Sronce says most projects are completed within a week or two with prices starting at about $45.
Word-of-mouth and social media posts are enough to keep Designs by Precision Laser busy, she says.
"I keep saying we really need to get a website to help push us to the next level, but there just doesn't seem to be enough time for that. We're staying busy, but I think it will be great to grow bigger," she says. "We'll see where it goes. I love what I am doing and I love how everything has fallen into place."
#pu-email-form-breaking-email { clear: both; background-color: #fff; color: #222; background-position: bottom; background-repeat: no-repeat; padding: 15px 20px; margin-bottom: 40px; box-shadow: 0px 2px 0px 0px rgba(0,0,0,.05); border-top: 4px solid rgba(0,0,0,.8); border-bottom: 1px solid rgba(0,0,0,.2); display: none; } #pu-email-form-breaking-email, #pu-email-form-breaking-email p { font-family: -apple-system, BlinkMacSystemFont, "Segoe UI", Helvetica, Arial, sans-serif, "Apple Color Emoji", "Segoe UI Emoji", "Segoe UI Symbol"; } #pu-email-form-breaking-email h1 { font-size: 24px; margin: 15px 0 5px 0; font-family: "serif-ds", Times, "Times New Roman", serif; } #pu-email-form-breaking-email .lead { margin-bottom: 5px; } #pu-email-form-breaking-email .email-desc { font-size: 16px; line-height: 20px; margin-bottom: 5px; opacity: 0.7; } #pu-email-form-breaking-email form { padding: 10px 30px 5px 30px; } #pu-email-form-breaking-email .disclaimer { opacity: 0.5; margin-bottom: 0; line-height: 100%; } #pu-email-form-breaking-email .disclaimer a { color: #222; text-decoration: underline; } #pu-email-form-breaking-email .email-hammer { border-bottom: 3px solid #222; opacity: .5; display: inline-block; padding: 0 10px 5px 10px; margin-bottom: -5px; font-size: 16px; }