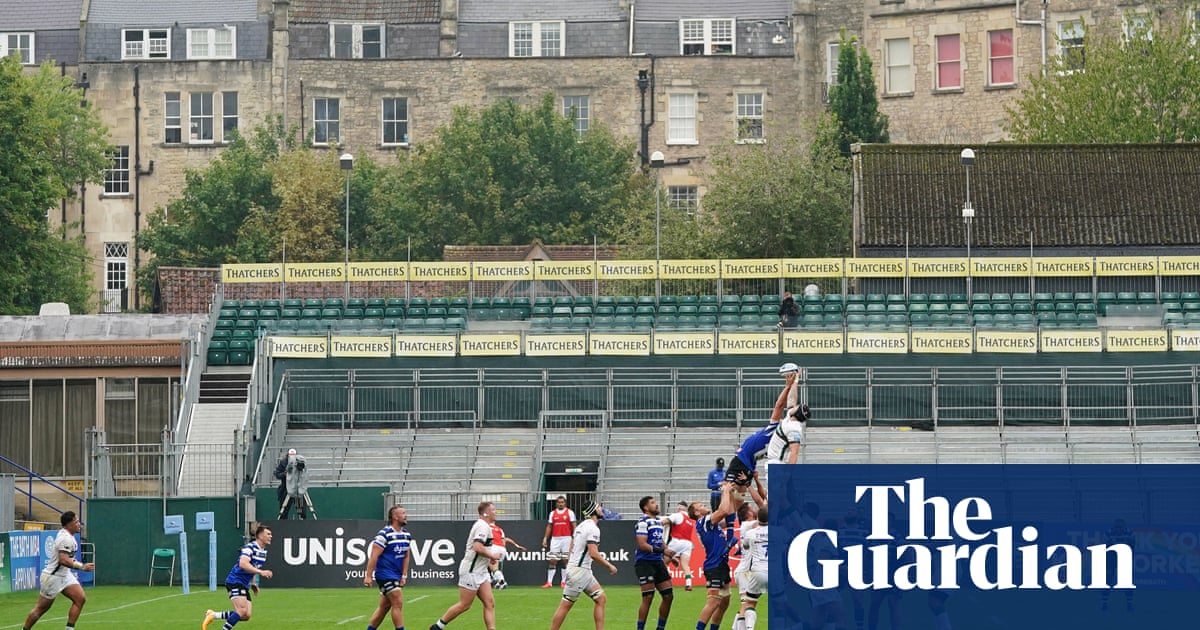 The Premiership's festive fixture list is in tatters after London Irish's match at Bath was cancelled due to a Covid-19 outbreak among the Exiles, becoming the second Boxing Day fixture to be called off because of the virus.
Irish learned of a small number of cases in their squad on Tuesday and after further players reported symptoms later that day, the decision was taken by Premiership Rugby to call the match off following discussions with Public Health England, 24 hours after Leicester's match at Newcastle was cancelled.
Bath's European match against La Rochelle last weekend was cancelled because 12 of their players were forced to self-isolate but on Tuesday their director of rugby, Stuart Hooper, was adamant he was able to field a team against London Irish. Provided Premiership Rugby are satisfied that was the case, Bath are expected to be awarded four points and Irish two.
In total, five clubs have reported a combined total of 12 cases this week but there is optimism the three other Boxing Day fixtures, as well as Wasps' trip to Sale on Sunday, will go ahead. Following the announcement of tighter government restrictions on Wednesday however, only Exeter will be able to admit supporters, with the Chiefs director of rugby, Rob Baxter, crediting twice-weekly testing for allowing him to select a "strong squad" to face Gloucester after an outbreak in double figures last week.
The two cancellations come after four Champions Cup matches – including Toulouse v Exeter – were called off last weekend. Unlike in professional football, there is no room in the cluttered calendar to reschedule matches, significantly affecting domestic and European competitions. Exeter, for example, may win all the European pool matches they take part in but still fail to reach the knockout stages of the tournament they won in October.
Amid surging numbers of infections, Premier League football clubs in tier 4 areas are set to introduce twice-weekly Covid testing. Premiership Rugby was non-committal over following suit, insisting only that its programme is under constant review, but the additional cost – around a combined £100,000 a week – would be a significant obstacle. Baxter believes further cancellations are inevitable but highlighted the benefits of testing twice a week.
"We will have a pretty strong squad to pick from based on players who have completed their isolation and guys who have now tested negative three times in a row," he said. "And we'll have a further test on Thursday morning to confirm. There's an argument for testing as often as possible but there is also a reality. At some stage the cost becomes unbearable.
"You've got to make sure that whatever the cost implications are, they don't outweigh what you get back but I certainly think clubs taking responsibility for themselves and getting multiple tests done if they have any outbreaks is certainly the way to go because it helps you get on top of the whole picture very quickly."
Meanwhile, Baxter rejected claims members of his squad and staff contravened protocols during their win over Glasgow 10 days ago. Due to the Exeter outbreak, Glasgow have been forced to cancel their subsequent two matches and were reported to be concerned at a perceived lack of social distancing and mask wearing among Exeter replacements and non-playing members of staff.
But Baxter said: "There are numerous comments I could make about the things I witnessed among the Glasgow players and staff, what they allowed to happen in their areas, their changing room, but it doesn't help anybody to talk like that. I'm not sure what they're intimating. There are some things that are a little bit odd, but it's what some teams choose to do in difficult circumstances."