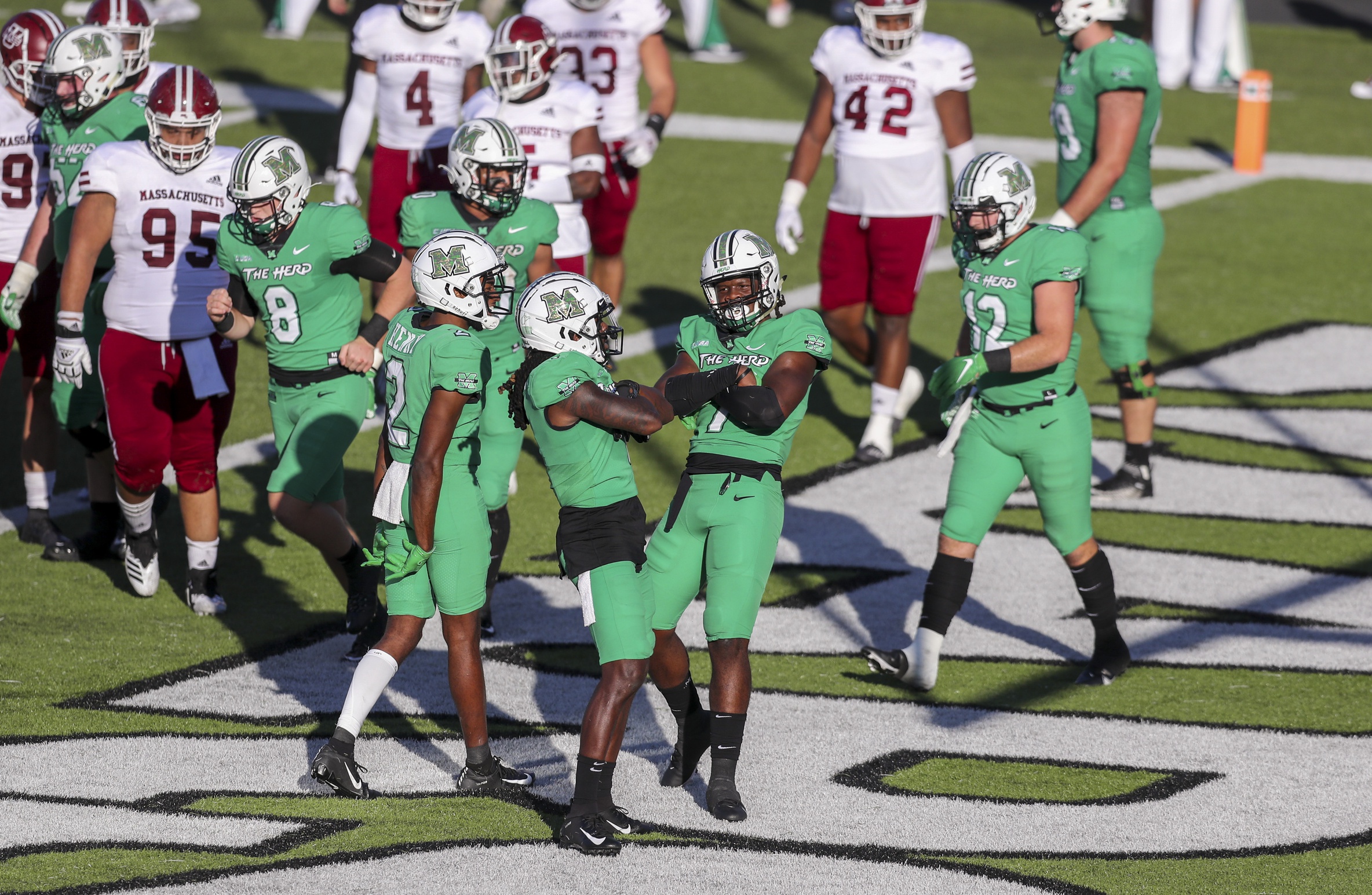 By Bill Cornwell
HUNTINGTON – Fans of hard-nosed, low-scoring football will probably enjoy Friday Night's Conference USA Football Championship Game as East Division champion Marshall hosts West Division champ UAB at Joan C. Edwards Stadium.
UAB (5-3, 3-1) earned its spot in Friday's game with a 21-16 win last Saturday at Rice. Marshall (7-1, 4-1) had a game with Charlotte set for last weekend cancelled due to injuries and Covid-19 cases in the MU program. The Herd's last game was on December 5th, a 20-0 home loss to Rice.
The teams have met ten previous times and Marshall has a commanding 8-2 series lead. The last meeting occurred on November 22nd, 2014 in Birmingham, a 23-18 Herd win. Marshall is 5-0 all-time versus the Blazers in Huntington.
Shortly after that 2014 meeting with Marshall, UAB administrators shuttered the football program for 2 seasons, bringing it back in 2017. Since the resumption of football players, the Blazers have won 3 consecutive C-USA West Division titles and one league championship, occurring two years ago at Middle Tennessee.
Scoring could be at a premium in Friday night's game, if statistics can be believed.
The Thundering Herd leads FBS in scoring defense (11.4 points per game) and is second in total defense, allowing 253.9 yards per contest. The MU defense has allowed only one opponent (Rice) to rush for more than 100 yards in a game. Herd senior linebacker Tavante Beckett is a defensive standout, leading FBS in fumbles recovered to go along with his 68 tackles on the season.
The Blazers are just as impressive, ranking 12th in the nation in pass defense, allowing only 180.4 passing yards per game. UAB has held seven of its eight opponents under 200 yards passing and ranks 3rd in C-USA in total defense. Marshall is the top total defense squad in the league.
Those numbers will put the pressure on both teams' offenses. Marshall will try to rebound from a woeful performance in the Rice loss which featured five interceptions thrown by Herd redshirt freshman quarterback Grant Wells and a below-average performance from junior tailback Brenden Knox. The Blazers hope to have some of their top offensive performers back this week after facing Rice without their top two running backs, including starter Spencer Brown. In total, 11 key contributors for UAB missed the Rice game.
The Blazers offense is now being led by junior quarterback Tyler Johnston, who made his first start last week in the Rice win since lining up under center in week 2 at Miami.
After several players missed the Rice game due to injuries and Covid-19 issues, Marshall expects to be close to full strength on Friday night.
Notes..Friday's game will be Marshall's third appearance in a C-USA Football Championship game. The Herd lost to Rice in the 2013 title game by a 41-24 score, a game played in Houston, Texas. The next year, MU hosted Louisiana Tech in the championship game and recorded a 26-23 come-from-behind victory…UAB is the first school to play in 3 straight C-USA Championship games. All three of those appearances have been played away from the Blazers home, legendary Legion Field…Since C-USA began hosting a conference championship in 2005, the host school is 11-4 all-time. This is the 7th consecutive year that the East Division champion has hosted the game…This week's game features the two winningest teams in the league since UAB's return to the field in 2017. The Blazers have a conference-best 33 victories since the start of 2017, while Marshall is one game behind with 32 total victories…Marshall Head Coach Doc Holliday was named this week as the American Football Coaches Association's Region 4 Coach of the Year. Region 4 covers both Conference USA and the Big 12 Conference. The honor also makes Holliday a finalist for the National Coach of the Year award. Holliday is 85-52 in his 11 seasons at Marshall, including a 6-1 bowl record and three seasons in which the Herd reached 10 or more wins.