We are closing this liveblog down but you can continue to follow our live coverage on our new liveblog here. Thanks for reading.
New South Wales recorded no new cases of locally acquired Covid-19 in the 24 hours to 8pm last night, meaning the state has now gone 22 days without any local transmission.
Four cases were reported in overseas travellers. This brings the total number of cases in NSW to 4,379 since the start of the pandemic.
Health officials said there still may be transmission among people who have unrecognised infections with mild or no symptoms, and that anyone with symptoms was encouraged to come forwards for testing.
There were 10,256 tests reported to 8pm last night, compared with 12,106 in the previous 24 hours.
As large parts of the state swelter in 40C temperatures, NSW Health urged people who can cool their homes to stay there so as not to overcrowd public indoor spaces where people seek respite from the heat.
Those heading to the beach or pool were also urged to keep 1.5 metres from people, and to swim and leave.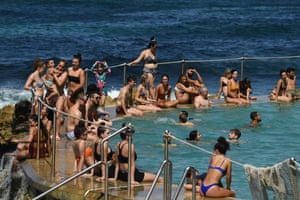 That is all from me tonight. I am handing over to my colleague Rebecca Ratcliffe, from the Australian team, now.
Here is a quick recap of recent events:
From the UK…
and around the world…
Victoria, in south-east Australia, recorded its 30th consecutive day without a new Covid-19 case, with no lives lost on Saturday from just under 6,000 tests.
Greece reported 121 coronavirus-related deaths, a daily record, with hospitals in the north of the country under pressure as intensive care beds fill up.
Turkey's daily Covid-19 death toll hit a record high for a sixth consecutive day, with the health ministry recording 182 fatalities within the last 24 hours.
Labour has urged the British government to suspend peak rail fares and provide mass Covid testing for transport staff to avoid travel "chaos" and ensure families are "kept safe" over the festive period.
The party is calling on transport secretary Grant Shapps to present a "comprehensive travel plan", covering the lifting of travel restrictions from December 23 to 27, to parliament on Monday.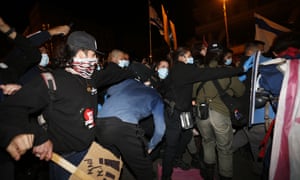 Around 1,000 protesters gathered outside Israeli Prime Minister Benjamin Netanyahu's official residence in Jerusalem on Saturday night, pressing ahead with their months-long campaign demanding his resignation.
Demonstrators say Netanyahu should step down while he is on trial for corruption and because of his handling of the coronavirus in Israel.
After two lockdowns this year, the nation's economy is struggling, and hundreds of thousands of Israelis remain unemployed.
Another two million doses of a Covid vaccine, which trials suggest is 95% effective, have been secured by the government.
It brings the total number of jabs on order from the US firm Moderna to seven million – enough for around 3.5 million people in the UK.
Doses of the vaccine- which has yet to be approved by the Medicines and Healthcare products Regulatory Agency- could start being delivered next spring if it meets the standards.
From Australian Associated Press:
The Australian state of Victoria has recorded its 30th consecutive day without a new Covid-19 case, having last week reached the benchmark for eliminating the virus.
The state recorded no new cases, no active cases and no lives lost on Saturday from just under 6,000 tests.
The last Covid-19 patient in a Victorian hospital was discharged on Monday.
Health authorities say 28 days with no new infections means the virus has been eliminated from the community, given that period represents two 14-day incubation periods.
New South Wales lifted restrictions for Victorian travellers on Monday, while Queensland and South Australia will reopen their borders from 1 December.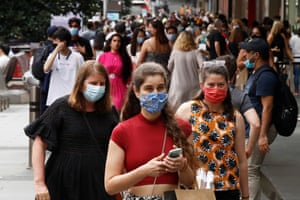 The UK's largest academic union has told of its "grave concerns" over plans for mass coronavirus testing for students, warning that "flaws" in the government's approach are a "recipe for chaos".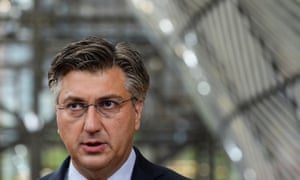 Croatia's prime minister, Andrej Plenković, has been ordered to isolate at home after his wife tested positive for Covid-19, the government's spokesman has confirmed.
"Prime minister Plenković was tested on Saturday and the result is negative. He was ordered to remain in isolation at home for the next 10 days. He will continue performing his duties from home," the spokesman said.
Boris Johnson has written to Conservative MPs offering them a second vote on the coronavirus tier system early next year, as he seeks to quell a backbench rebellion in the Commons on Tuesday.
In a letter to colleagues on Saturday evening, the prime minister said stringent regulations planned across much of England from 2 December would contain an expiry date of 3 February, with MPs offered the chance to vote to extend them.
In a further olive branch to MPs, Johnson said he would publish more data and outline what circumstances need to change for an area to move down a tier.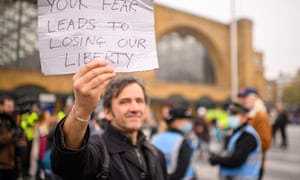 Update: Police have arrested 155 people for offences including breaching coronavirus regulations, assaulting a police officer and possession of drugs following anti-lockdown protests in central London.
The Metropolitan Police said it used early intervention methods to disperse the illegal gatherings, including intercepting coachloads of demonstrators as they came into the capital.
Ch Supt Stuart Bell, policing commander for the event, said:
On Friday, we made it very clear how we would police this event, warning those looking to attend that they risked facing enforcement action if they attended a gathering in London. Today's enforcement action is a direct result of those individuals deliberately breaking the law and at times, targeting our officers with aggression and causing disruption to the road network. Our policing plan will continue well into the evening and I would urge anyone who hasn't already dispersed to go home.
Police have stopped 110 drivers for Covid-19 offences during the first 24 hours of random checks in Cardiff, PA media reports.
Officers in the Welsh capital were granted powers to stop and fine drivers from 9am on Friday in an effort to prevent people from outside the nation travelling into Cardiff.
South Wales Police said they handed out 12 fixed penalty notices in the first day, and warned a further 15 people, instructing them to leave Cardiff.
Those found breaching the legislation included a couple travelling from Essex heading to Cardiff to give family Christmas presents.