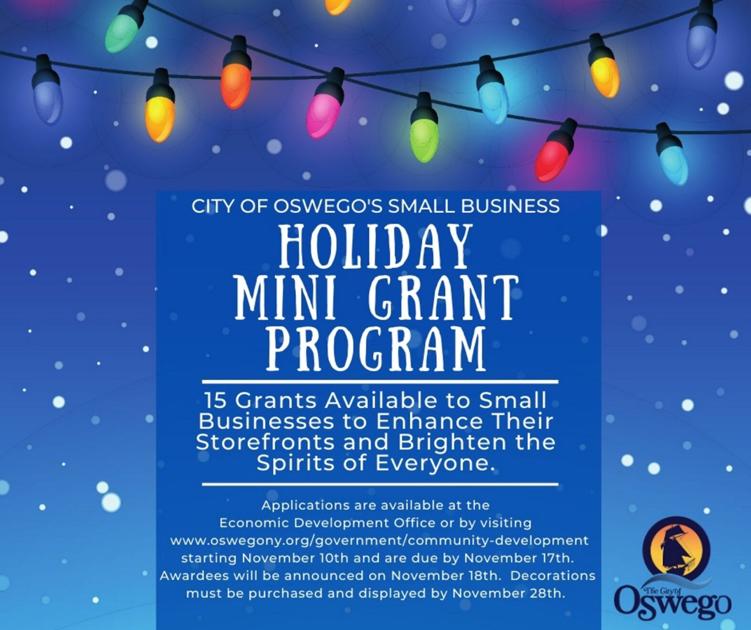 OSWEGO – Mayor Billy Barlow announced the city of Oswego is creating a mini-grant program for small businesses to apply for funding to assist with holiday decorations for the upcoming holiday season. The program makes available 15 "mini-grants" for small businesses to secure up to $100 in funding through the Oswego Economic Development Office to pay for storefront window decorations. Following the dispersion of the grant funding, the City of Oswego will host a city-wide holiday decorating contest for residential homes and city businesses.
"Our Holiday decoration mini-grant program provides an easy opportunity for businesses to decorate for the holidays and light up our community without added expenses during this already difficult time," said Mayor Barlow. "The city of Oswego is working hard to continue our annual holiday traditions despite COVID-19 and our holiday business decoration mini-grant program and our city-wide decoration competition are simple ways to keep our community excited and in the holiday spirit," Barlow said.
Director of Economic Development, Nathan Emmons, said, "2020 has been a tremendous time of uncertainty for everyone including our local small businesses. The Mini Grant program, led by Mayor Barlow, comes on the heels of the Mayor's COVID-19 Emergency Loan relief program in additional to multiple marketing campaigns all designed to help ensure stability within our small business community. This exciting program has introduced to increase the festive overall look of our storefronts throughout the city during the holiday season and to further excite our local citizens to shop local."
Businesses interested in applying for the grant funding can apply at the Oswego Economic Development Office located at 44 E. Bridge St. or get an application online at www.oswegony.org/government/community-development. Applications became available on Nov. 10 and are due by Nov. 17. Funding will be awarded to selected businesses by Nov. 18. Decorations need to be in put up by Nov. 28 with judging scheduled to take place in early December. The city of Oswego's 33rd Annual Holiday Tree Lighting will be live streamed at 6 p.m. on Nov. 28 with a firework display over the Oswego River at 6:05 p.m.